PUBLIC SPACES AT MQ
Melbourne Quarter is one of the largest mixed-use urban regeneration developments in Melbourne. With more than 50 per cent of the 2.5 hectare site dedicated to public open space, Melbourne Quarter will be an exciting addition to one of the world's most livable cities and the perfect place to relax and unwind.

Planned public spaces include Melbourne's first Sky Park elevated above Collins Street, a major Public Square at the heart of the precinct, a neighbourhood park for residents, situated off Flinders Street and five new city laneways.

Within these public spaces, you'll begin to see unique artworks and installations emerge as the precinct evolves, helping to tell the many stories of the site's rich history.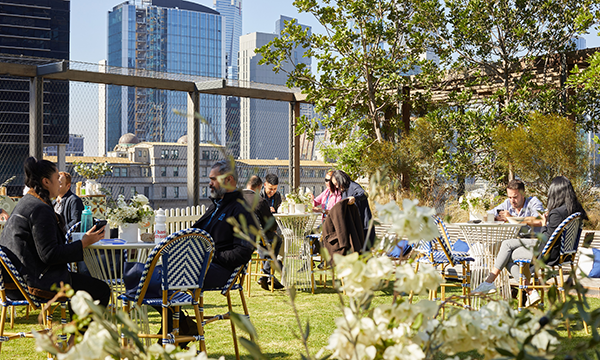 SKY PARK
Suspended above Collins Street and accessible via a dramatic staircase or the glass lifts located nearby, the Sky Park features lush green landscaping that allows visitors to soak up the sun in a wind protected environment. The Park is currently open to the public during business hours, Monday to Friday. When the second stage is complete, the Sky Park's numerous seating options will create opportunities to linger a little longer, with the added benefit of high speed public Wi-Fi, power outlets and USB charge points.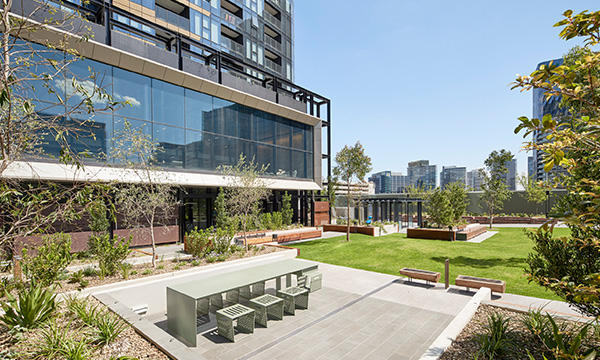 TITREE PARK - NOW OPEN
The neighbourhood park known as TiTree Park, is now complete and ready to be enjoyed. It is located off Flinders Street and is planned to link to Collins Street via a north south lane. The park's name refers to the stump and bails made from locally grown ti-tree for the first MCC cricket match, which was held at the foot of Batman's Hill. With a sunny aspect and views towards the Melbourne CBD skyline, the park features a generous lawn, seating areas, BBQ facilities and Wi-Fi network, creating the perfect place for respite from the hustle and bustle of the city.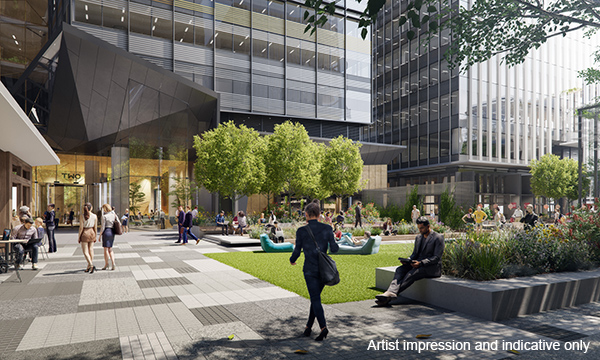 PUBLIC SQUARE - COMING SOON
An active and vibrant destination on Collins Street, the public square will be located at the heart of MQ. Flanked by restaurants and cafes, the square is a place for everyone to connect through food, nature, art and events.
GUNPOWDER WALK
Named after the structure built by the colonial government in 1846 to safely store gunpowder on the north-west side of Batman's Hill, Gunpowder Walk is a new laneway nestled between One Melbourne Quarter and Two Melbourne Quarter. This laneway has been designed primarily as a pedestrian-only zone with outdoor café seating spilling onto the sidewalk. It also features a generous staircase and public lift that links Aurora Lane with Public Square. The vision is that it will become a key thoroughfare during the day, with big potential for after-hours events too — think, retail, art, and vibrant laneway activations.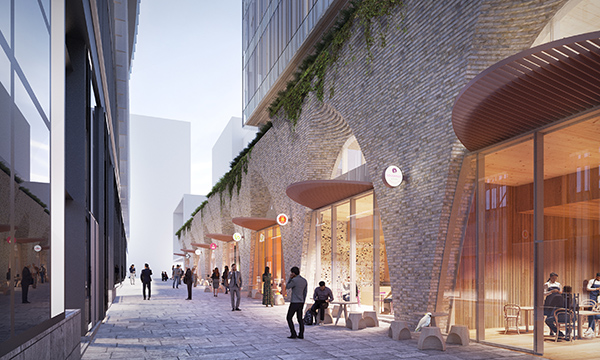 NORTH-SOUTH LANE - COMING SOON
Inspired by Kensington Street's Spice Alley in Sydney, this is MQ's unexpected gem. Fun and flirty micro tenancies form a food and beverage 'eat street', delivering a roving feast from day to night. This lane is about individuality and self-expression, being flexible and accessible, a place where delightful moments are discovered.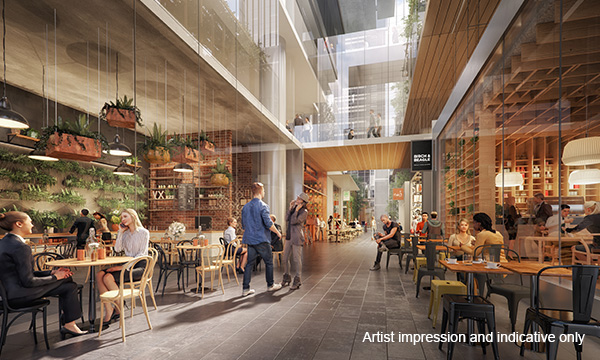 MARKET PLACE LANE - COMING SOON
Buzzing and bright, this food-focused laneway showcases select operators. During work hours it will become an ideal place for lunch, an informal meeting, or an after-work gathering. On weekends Market Place Lane will see a change in tempo, becoming slower paced so people comfortably linger for longer.