CONSTRUCTION PROGRESS AT MELBOURNE QUARTER
MELBOURNE QUARTER TOWER CONTINUES TO REACH NEW HEIGHTS.
The end is in sight as Melbourne Quarter Tower's building core has now reached level 31, three levels shy of its final 34 levels. Slab pours are also progressing well with the level 28 slab completed. Façade installation is now up to Level 22.
Our tower's internal fit out works have also commenced. These works involve activities like plastering and installing the access floor panels on the lower levels of Melbourne Quarter Tower. Access floors sit elevated over a building's concrete slabs.
Once Melbourne Quarter Tower is complete, the 34-level building will become Medibank's new national headquarters. The entire Melbourne Quarter precinct is set to be home to circa 15,000 employees.
The completion of Melbourne Quarter Tower will also facilitate the opening of the precinct's Wellness Building, public square and Sky Park – the first of its kind in Melbourne. You can now see the full extent of Sky Park from Collins Street as the last of the concrete slab has been poured.
Over at the Wellness Building, structural steel installation for the architectural brick façade is nearing completion.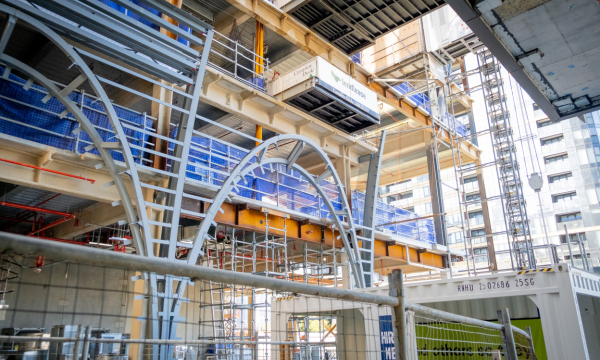 Caption: Structural steel installation for the Wellness Building's brick façade
Melbourne Quarter is set for completion in 2024, we are excited to see our neighbourhood grow!
And you can watch it grow with us by watching the video below.