AN EXPLOSIVE NEW LANEWAY FOR MELBOURNE QUARTER
Gunpowder Walk is set to be an exciting addition offering workers, residents and visitors alike, a vibrant and diverse mix of retailers. Discreetly tucked behind the bustle of Collins Street, Gunpowder Walk connects outdoor dining and indoor retail with history, culture and more.

Rich in heritage significance, Gunpowder Walk is aptly named to symbolise a city with an explosive narrative – in 1846, the colonial government decided to build a powder magazine on the north-west side of Batman's Hill. Just outside of the growing township, the gunpowder was within reach when needed, but also a safe distance away from the most densely populated area of the colony.

Until now, Gunpowder Walk has remained untouched, but once again, at Melbourne Quarter it will be central to the revitalisation of a city.

New retailers coming soon-ish to Gunpowder Walk. Subscribe to our newsletter to stay in the loop or visit Eat & Drink to find out who we have already welcomed to Melbourne Quarter.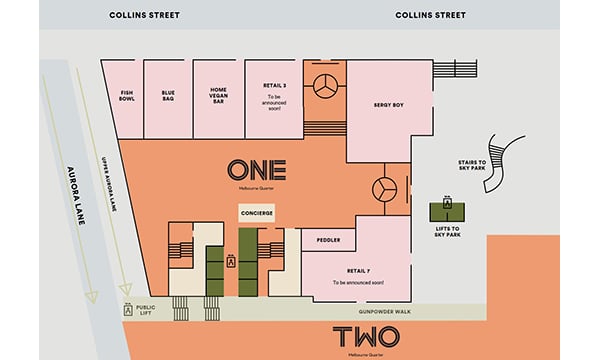 Gunpowder Walk is accessible via Aurora Lane and Upper Aurora Lane – we look forward to seeing you there!