WHERE NOSTALGIA AND FUTURE COLLIDE
Meet local Melbourne artist Callum Preston, whose inspired vision in Melbourne Quarter is breathing new life into its hoardings.
Walk along the deck area of Melbourne Quarter, behind the spiral staircase, and it's possible you'll find yourself lost in the best way possible. There, in full brights and neon, is a symphony of colour and design; a hoarding artwork by the inimitable Melbourne artist Callum Preston. It's the perfect place to zen out, sink in, lose yourself visually and take a moment to breathe, in the midst of a hectic day.
The collaboration between Lendlease and Preston brings to life another aspect of Melbourne Quarter's vibrancy and its embrace of local talent. "There's such a beautiful concourse there, where people can sit, relax and eat, I wanted them to feel like they're in a creative environment," says Preston. "It was about taking that long rectangle of space and tapping into the vibe of the Melbourne Quarter Complex; shapes and symbols, life and colour, local flora and fauna and other things synonymous with the area; coffee cups, music, things like that. There's so much going on in the precinct, and while there are some amazing finished buildings that are full of people, they're also continually growing that space. Finding the balance between a work site and an active office environment was really important."

Life, illuminated
Preston worked with light designers at Electric Confetti, to literally illuminate his work, taking it from hand-painted mural to something more future-facing. "It's like a handmade version of digital hyper-real reality. I think of it as being like a futuristic world that you'd see in a movie, taking elements of Las Vegas and Hong Kong, Japan and Times Square, incorporating all of these colors and shapes, and reinterpreting them," he says. "Being able to trace the contours in neon is something that I've never had the opportunity to do before and it was really exciting to be able to work with Electric Confetti on such a public-facing space."
Preston is no stranger to large-scale artworks. In 2017 he created his installation, The Milk Bar, a life-size replica of the milk bar he worked in as a kid. "You walk inside it and there are over 500 items in there, each one cut out of plywood by hand, and painted to look like something you'd buy; a packet of chips, a chocolate bar, a drink. It was a show that I made purely for the love and passion of it, and anyone who walked through the door, couldn't help but be put in a good mood," he says. "I met people who shared beautiful stories with me. They grew up living in the back of a milk bar or their relatives owned one, or they worked in one themselves. I had 85-year-olds reminiscing about how they used to sell items in their store for one cent a piece. It was nostalgic and fun."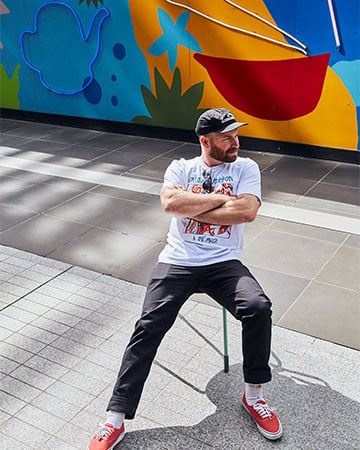 Experience and Memory
The nostalgia of Preston's work plays a big part in making anyone who immerses themselves in it feel something; their memories filling in the gaps between the art and its meaning. It's a feeling Preston can relate to, not least when he's looking down at the view from what he calls "one of the best kept secrets", Melbourne Quarter's Sky Park.
"When I was working on the wall, I'd often sneak up there to have my lunch. I grew up way out in the suburbs, so coming to the city was always a big adventure for me. I'd get the train from the other end of the train line. The Docklands precinct wasn't really anything then. It was just warehouses and stuff. To be able to see how far the city has come since I've become an adult is amazing, because it's continually evolving. To look towards the Crown Casino precinct, where that train line that I've ridden a million times, cuts through the city, and see how things are growing around it all the time is so inspiring."
So what's next for this milk bar-reimagining, Melbourne Quarter enlivening creative dynamo? "I'm currently theorising ideas for a mini-golf course that I'm working on. It's going to be installed in a regional town in Victoria as part of a live music project," he explains. "The venue was an old rundown motel with a golf course that was probably built in the '70s, but hasn't been in operation since the 80s. I'm building obstacles for the course out of found materials and hard rubbish, to make something really special. I'm looking at everyday objects thinking, "How can I put a ramp on that and have a golf ball fly through it?" So yeah, I'm feeling very inspired by my surroundings at the moment." Take a walk along Preston's wall at Melbourne Quarter, and you'll know exactly what he means.
Follow Callum Preston on Instagram: @callumpreston
Keep up to date with Melbourne Quarter, subscribe to our Newsletter or follow us on Instagram and Facebook.