FIVE WAYS MELBOURNE QUARTER IS HELPING THE PLANET
From sustainable innovations and community wellbeing to enviable walkability and a commitment to zero carbon, discover how Melbourne Quarter is achieving its vision to be Melbourne's greenest city precinct.
In the 365 days we're given in a year, there are plenty of good ones dedicated to the protection of our planet. There's Earth Hour and National Tree Day, Clean Up Australia Day and National Recycling Week to name just a few. Every little bit of awareness helps, because preserving the earth for future generations is one of the most important things we can do in our lifetime. And while there isn't yet a Melbourne Quarter Day, if you live at, work at or visit this vibrant precinct, you'll soon discover that every day here is a day for the environment. Discover just five of the ways Melbourne Quarter is putting the planet first, for the greater good of all.
IT'S VERY WELL CONNECTED
The power of being able to walk wherever you need to go should not be underestimated. Time spent moving, inhaling the fresh air, having space to gather your thoughts and increase your heart rate can only enhance your wellbeing (not to mention the impact of less cars on the road). Melbourne Quarter's excellent walkability score and enviable access to the city's train and tram networks (hello, 100% transit score) makes it one of Melbourne's most accessible workplaces. As for visitors, diners and random passers-by who stumble upon Melbourne Quarter's many delights, it's an effortless meander, whether you're stopping for lunch, exploring the laneways or taking a breath in the serene green of Sky Park, Melbourne's first elevated park.

Located opposite Southern Cross Station, convenient transport connections dramatically reduce travel time around the city and to outer suburbs. Seamless connectivity by bus, car and bicycle ensures coming and going is easy – and that's not to mention the facilities which include 810 lockers and 680 bike storage spaces for Melbourne Quarter workers. Meanwhile, Melbourne Quarter workers will always feel fresh thanks to the precinct's 76 showers with towel service. Hot tip? Hair straighteners in the women's bathroom mean you need never have a bad hair day, even if you cycle to work in a wind storm.

THE ENVIRONMENTAL CREDENTIALS SPEAK FOR THEMSELVES
Melbourne Quarter is a bit of a high-achiever when it comes to matters of the environment, except instead of ribbons, medals and trophies, it proudly holds a list of sustainable ratings. These include a 6 Star Green Star Communities rating from the Green Building Council of Australia (GBCA ), a 6 Star Green Star Design and Built rating and, in Melbourne Quarter's offices, a minimum 5.5 Star Nabers Energy Rating (indicating exceptional environmental performance). What does 6-stars mean, you ask? For starters, 6-stars is the highest sustainability rating available in Australia – which equals a serious social and environmental consciousness. Put into practice, it's things like Melbourne Quarter's design, which merges architecture with greenery (calming green space in the midst of urban jungle? Tick). It's unwavering dedication to sustainable operations through conscious recycling, material reuse, energy and water efficiency. It's sustainable shop fit-outs and businesses that share a for-the-planet ethos. It's clever construction using sustainable materials and designs that maximise natural air and light, to minimise energy usage and greenhouse emissions. And beyond the overall commitment to being as environmentally sensitive as possible, it's an all-encompassing dedication to ensuring the wellbeing of the community, by cultivating intentional social connection, supporting local businesses and prioritising the health and wellbeing of all who visit, day after day.

IT'S ON THE WAY TO ZERO CARBON
There's no denying the construction industry impacts the environment, contributing to almost 40% of global carbon emissions (high usage of carbon-intensive materials including concrete and steel are just a couple of the culprits). That's why every single one of Lendlease's sites, including Melbourne Quarter, are on their way to some pretty aggressive carbon-reducing targets. Lendlease has made a commitment to Net Zero Carbon by 2025 (reducing emissions produced directly from fuels burnt and power consumed while offsetting the remainder) and Absolute Zero Carbon by 2040. Across the board, Lendlease aims to eliminate all emissions, including those generated indirectly, without the use of offsets. It will take teamwork, investment and transformation of the business and supply chain, but the dedication to these goals is unwavering.

IT HAS SUSTAINABLE SMARTS
Car share facilities? Electric vehicle charging stations? 40-storey green towers? LED public lighting? Melbourne Quarter will have it all and then some. 100% of the base building electricity will come from renewable sources, 100% of all timber used in construction has been procured from responsible sources and captured storm water will be used for irrigation to minimise water usage. Meanwhile, open-air work environments including Sky Park have accessible WIFI, meaning you don't have to be at a desk to be productive.. And that's not to mention smart building technologies that will save time and energy with high-speed secure fibre network and environmental sensors, to name a few.

THE WHOLE COMMUNITY BENEFITS
With its many sustainable innovations, initiatives and ratings, it's no surprise that Melbourne Quarter is aiming to be Melbourne's greenest city precinct. It's a vision that boosts the wellbeing of all who live, work and visit. Fifty per cent of the site has been dedicated to open community space with 1000sqm of community facilities proposed, to inspire an active life. And Melbourne Quarter's aspiration to be a leader in environmentally sensitive and sustainable development is already paying off. The International WELL Building Institute (IWBI) recently presented its first Platinum level WELL Certification under WELL v2 in Australia to Lendlease's Victorian headquarters in One Melbourne Quarter. In the simplest terms, it means Melbourne Quarter has been officially recognised as being a workplace designed to enhance employee health and wellness. Now that's a workplace you'll want to get out of bed early for.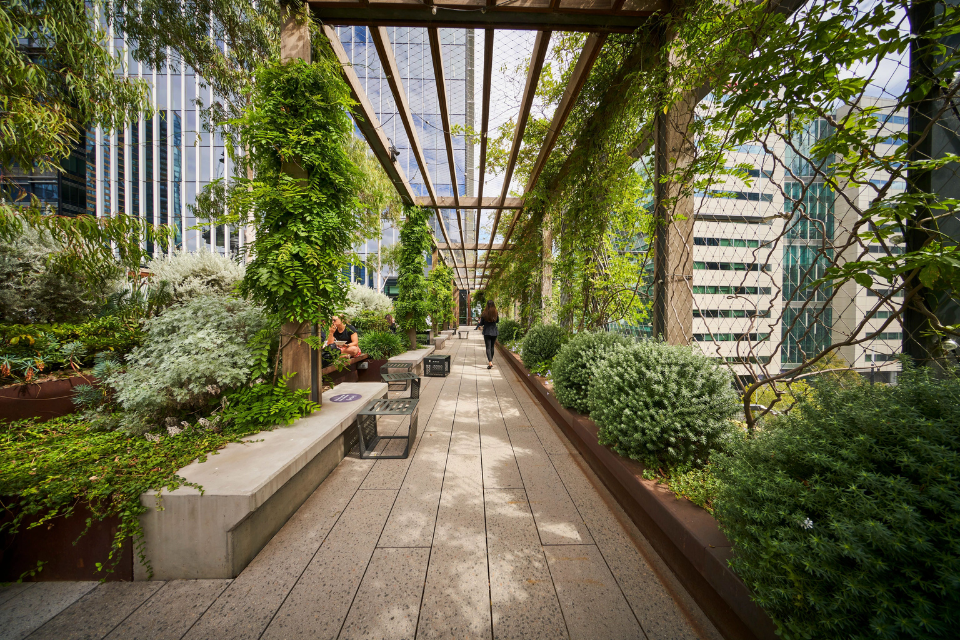 Melbourne Quarter is conveniently situated between two of Melbourne's most iconic streets, Flinders and Collins, and is opposite Southern Cross Station.

Keep up to date with Melbourne Quarter, subscribe to our Newsletter or follow us on Instagram and Facebook.
[1] https://www.unep.org/news-and-stories/press-release/building-sector-emissions-hit-record-high-low-carbon-pandemic