From lush leafy spaces and social connectivity to meditative skyline views, discover how Melbourne Quarter is revolutionising work-life balance.

There's no denying the pace of modern life is unrelenting. Work-life balance can feel impossible when we're constantly interrupted by pinging emails from our perpetually-attached phones. And yet, Melbourne Quarter seems to have cracked the code. From green spaces that inspire mindfulness, to effortless connection, walkability and numerous wellness initiatives, discover some of the ways this progressive precinct is helping its workers find peace in the midst of a busy world.

IT'S GREEN…IN THE BEST WAY POSSIBLE
Head to Melbourne Quarter's Sky Park, take a deep breath and instantly feel calm in the city's most tranquil green oasis. Melbourne's first elevated park provides respite from the daily hustle with its panoramic city vista, in the midst of lush, leafy landscaping. It's the perfect place to step away from your desk, connect with nature, and feel the fresh air on your face (helpfully it's wind-protected, so you'll enjoy a gentle breeze, not a bluster). Alternatively take yourself to TiTree Park off Flinders Street with its barbecue facilities, soft lawn and skyline views—just another of Melbourne Quarter's relaxing green spaces, to take the edge off a busy day.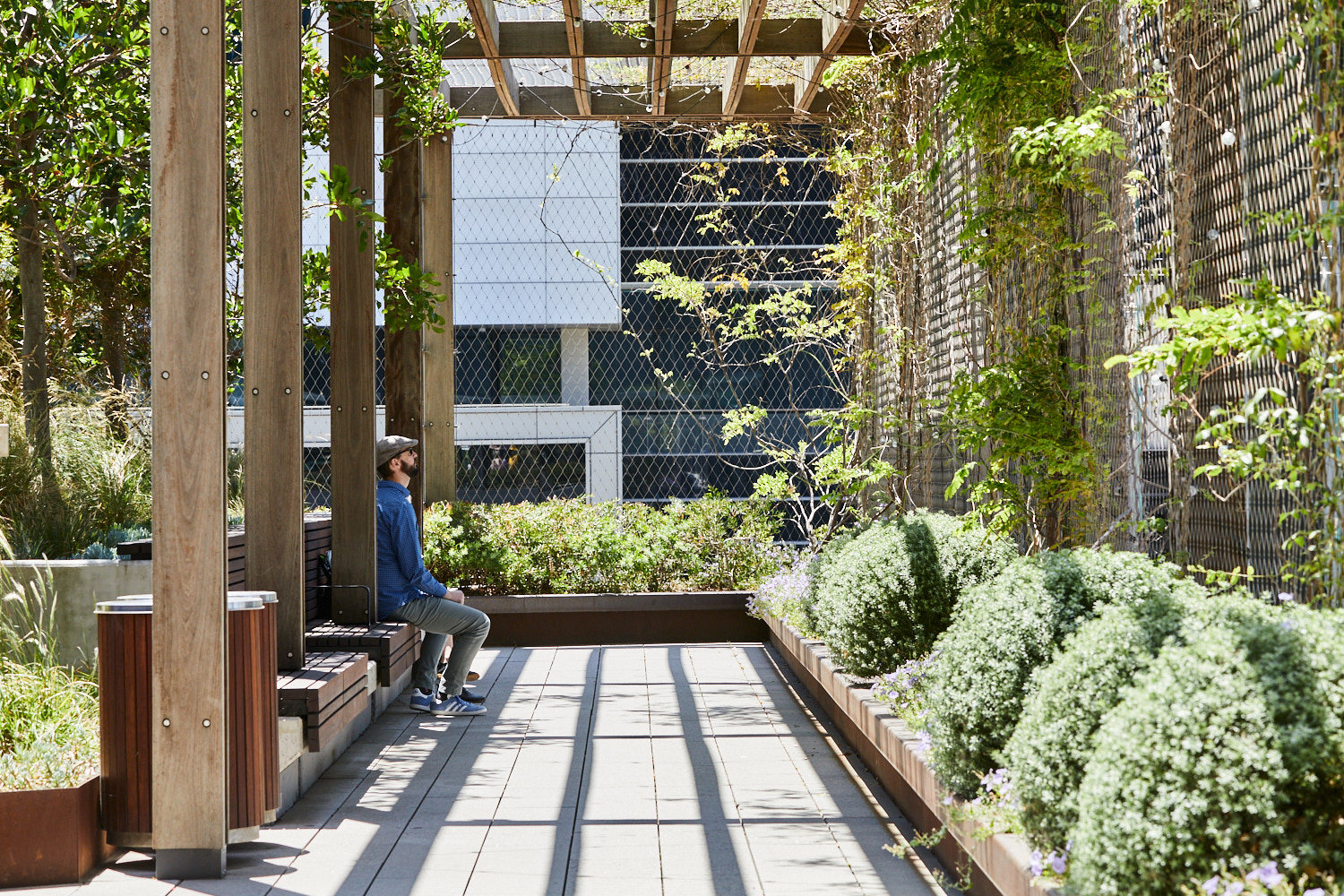 IT'S WELL-CONNECTED… IN EVERY WAY
From free WIFI and effortless walkability, to meeting rooms and proximity to retail, Melbourne Quarter is all about connection. WIFI in public spaces means you can conduct business from anywhere, while innovation hubs and co-working spaces give you and your colleagues even more space to connect and create. Want a change of scenery from the office? Book the Sky Park's technology-enabled meeting room. With its expansive floor-to-ceiling windows looking out to inspiring park views, it's a tranquil space that's perfect for finding focus.

Melbourne Quarter's location opposite Southern Cross Station, with direct access to city cycle ways and a Super Tram stop, means that getting to and from the precinct is effortless. Plus, its enviable position between Collins and Flinders Streets means you're surrounded by a diverse mix of retail, healthcare, hospitality, childcare and wellness services, connecting you with ease to all the convenience you could possibly need for an easier life.

Oh—and if you cycle to work and find yourself a bit hot and sweaty, just head to one of Melbourne Quarter's 76 showers…with towel service. Yes—that's 76 showers, 812 lockers and 680 bike storage spaces. #Blessed.

IT HAS ITS OWN APP
If you work in Melbourne Quarter, the WorkLife app is the best friend / virtual admin assistant you'll wonder how you ever lived without. It provides exclusive discounts, hyper-local perks, and info about the precinct's latest events (read: fun stuff), putting you at the centre of your workplace's connected community. To learn more about WorkLife, register here.

THERE'S FOOD FOR EVERY MOOD
By the time Melbourne Quarter is complete in 2024, the precinct will boast over 40 dining establishments. Already, there's a brilliantly eclectic mix of cafes and restaurants covering every craving: grab-and-go bites, elegant dining, big plates, small nibbles, sweet treats and easy snacks—and that's not to mention the excellent coffee, craft cocktails and more.

Whether you're eating on the run or need serious sustenance for a meeting over lunch, Melbourne Quarter is set to become a place that will make its mark on the foodie scene. From Signature Collins Street and Market Place Lane to North-South Lane and Quarter Hall, you'll discover an incredible mix of flavours and cuisines, which will fuel any workday to perfection. Watch this space for plenty of exciting new eateries… coming soon-ish to Melbourne Quarter. In the meantime, check out our existing retailers serving up everything from coffee and lunch to after work drinks.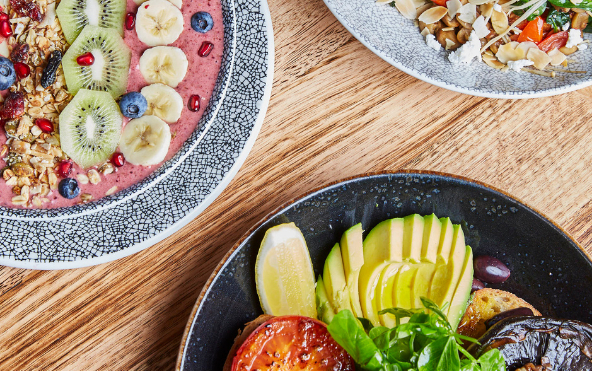 IT'S FUN
Seasonal, festive, special days and more – whatever the occasion, Melbourne Quarter's many activations serve to add excitement and entertainment to the usual proceedings. Throughout the year, you'll discover a calendar of events encompassing everything from masterclasses and entertainment to food and drink sampling. Whether you're enjoying music at the Sky Park, or experiencing the precinct transformed into a wonderland, Melbourne Quarter's playful spirit is a joy to behold. For more information about upcoming events subscribe to our newsletter.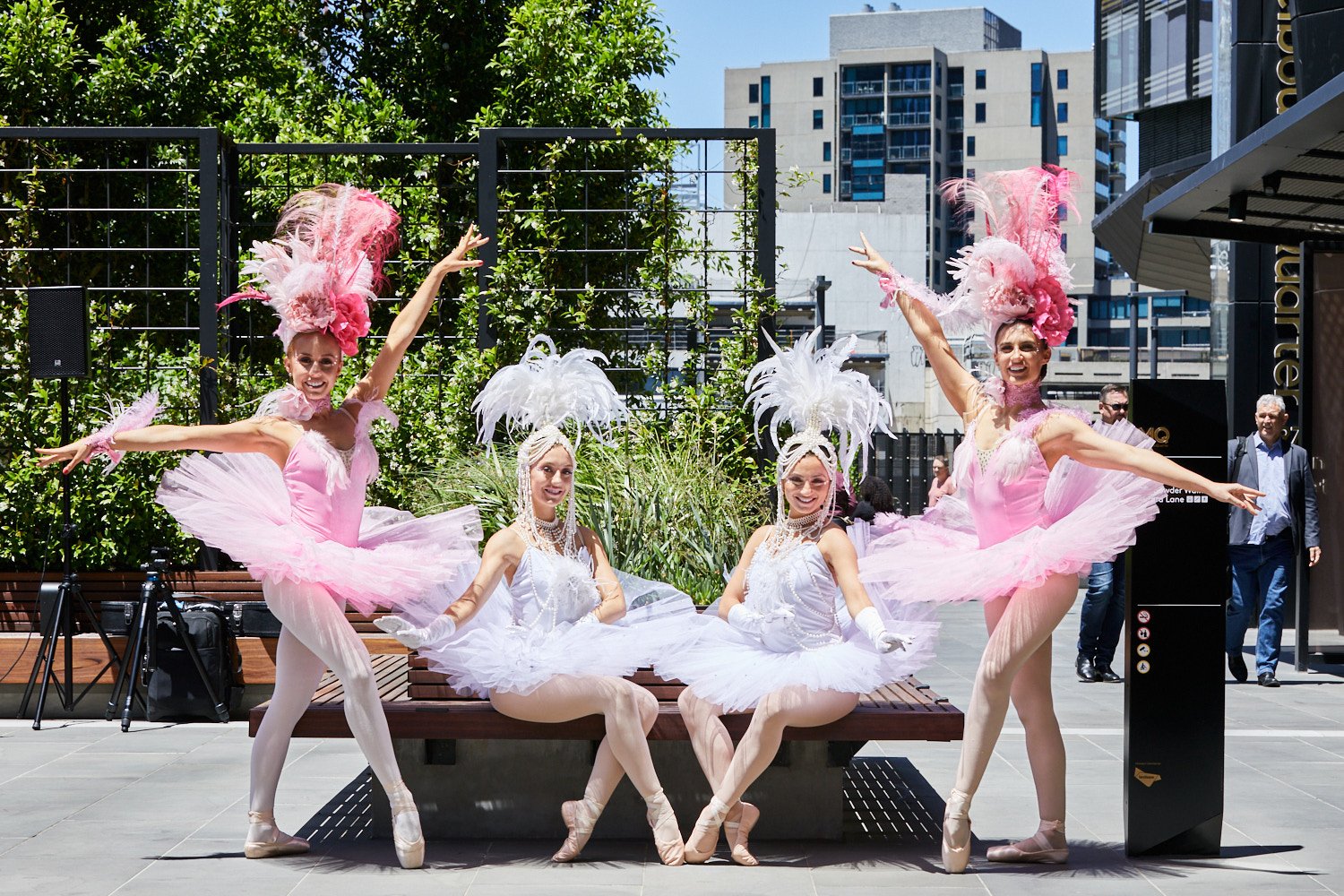 IT HAS IMPRESSIVE ENVIRONMENTAL CREDENTIALS
There's something virtuous about knowing you work in a place that's seriously dedicated to the planet. Every aspect of Melbourne Quarter has been designed to deliver environmental benefits. It's already achieved a 6 Star Green Star Communities rating which represents world leadership in sustainable precinct design. One hundred percent of timber used in construction was responsibly sourced and 100% of base building electricity will be renewable.

More than that, Lendlease's Mission Zero initiative, based on ambitious science-based emissions reductions targets, intends to achieve net zero carbon emissions by 2025 and zero by 2040. Melbourne Quarter's sustainable ethos strives to make a positive impact on the people who live, work and visit, from cleaner air to nutritious food; landscapes that inspire exercise; restorative natural spaces that promote mental wellbeing and an engaged community. In short? When you work at Melbourne Quarter, you can't help but feel good every single day.

Melbourne Quarter is conveniently situated between two of Melbourne's most iconic streets, Flinders and Collins, and is opposite Southern Cross Station.

Keep up to date with Melbourne Quarter - subscribe to our Newsletter or follow us on Instagram and Facebook.